Solutions
NITSEA provides port and maritime support services, with a staff comprised of highly qualified and experienced professionals.
NITSEA has state of the art equipment, including assorted derricks, floating cranes, containment barriers, barges, tugs, offshore support vessels, and cargo/passenger vessels.
NITSEA has its own Port Terminal and a cargo staging area, is equipped to supply water and power to vessels and operate, with onshore cranes, its own and third party vessels berthed at NITSEA port facilities.
NITSEA endeavors to meet its clients requirements in a professional way, always providing the best logistical, operational and technical solution, in accordance with the best environmental, safety and quality standards. NITSEA is constantly investing in training new professionals and upgrading the qualifications of its personnel, to provide the best response to new challenges

HS&E
Health, Safety and Environment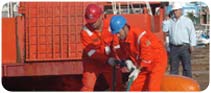 Safety We at Nit Sea consider Safety on board as the main focus. The crew officers are trained and qualified by Centro de Instrução Almirante Graça Aranha (CIAGA) or by Centro de Instrução Almirante Braz de Aguiar (CIABA) certification courses. After a five year course, they are tested and then graduated, which is equivalent...